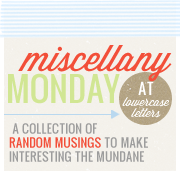 Happy Monday Ya'll! ;)
~I've been running for about 2 weeks now (NOT everyday! You will not catch me waking up at 5am on a weekend, unless my children think it's time to get up! ;) but I've been pretty proud with how committed I've been (considering I've never ran a day in my life (other than in school when you HAD to! :)) Today I decided to start Couch to 5K. I liked running and found it energizing, but I didn't feel like there was a purpose behind it. Now that I'm doing C25K, I feel like I have a "reason" I'll keep you posted!
~I turned 30 on June 2nd and I knew my hubby had something up his sleeve, but with weddings, birthday parties, etc. I wasn't sure when the "surprise" would be...come to find out, it was this past Saturday! :) I knew we were going to my sisters for a cookout, so I thought, "Ohhh, this is totally going to be my surprise party" and I was very excited. But my hubby really got me when we walked outside to leave for the surprise and there in the "courtyard" of our community, under the pavilion, was my family, friends, balloons, drinks, food, toys and games (for the kids), etc. It was a VERY sweet gesture, and in the end he really did surprise me! :) Manny slaved away all day on the grill and running around to get things ready without me having any idea! And to top it off, he was/is REALLY sick, so I was SO appreciative of the love and effort! :) Here's a few pics (I have a TON, but I'll save those for another day! ;))
Clearly, Manuel REALLY wanted his picture taken! ;)
Mia was slightly more cooperative :)
The party planner/cook/decorator/amazing hubby! :)
~Then Sunday was Fathers Day, so of course we celebrated my hubby! The kids and I went to church and Sunday school (Manny was still sick :( and then we came home and pampered him with some good ol' fashioned cards and homemade gifts! :) He loved it all, of course! And then he wanted sushi for dinner which was fine.by.me! :) I LOVE sushi! :)
Home Depot offers a free workshop for the kids the 1st Saturday of every month. In honor of Fathers Day, they had one on the 18th so I took Manuel (and Mia :)) so they could make Manny a tool box :) It was VERY sweet!
Mia watching and waiting patiently for her brother to finish his masterpiece! :)

I hope you all had a wonderful weekend! :)