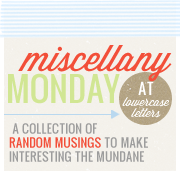 Happy Monday Ya'll! :)
I hope everyone had a great weekend! It's the beginning of the month so hopefully things will be a tad slower at work this week so I can regroup, recharge and just have some quietness to my day.
I'm linking up for some miscellaneous ramblings! :)
~For the first time in Mia's life, I never "recognized" a milestone birthday of hers.
To make me not feel like the worst mother ever!
There is a reason...July 18th she turned 18 months old, but we were enjoying a vacay, so that's why I didn't blog about! :) I can't believe she's 1 1/2! Really, it's crazy! She has hewr 18 month check-up on the 9th so I'll have exact measurements then. But needless to say, she isn't lacking in the height or weight department! :) She talks up a storm, most of it we can understand, some of it we can't! ;) She eats anything and everything (from good for you fruits and veggies, to not so good for you freezie pops! :)) She throws Oscar award winning tantrums, and the next second will be sweetly playing on the floor give her baby "lovies" and trying to give them her ninny! :)
~ Yesterday, my sweet baby boy turned 5 1/2! :) (Yes, he and Mia are exactly (well almost! ;)) 4 years apart! He starts Kindergarten in 28 days, and I'm just beside myself about it. I'm actually "accepting" it more and more (do I really have a choice? ;)) and now, when I think about it, I get a little sad, but more happy and excited for him! He is ready! :) He's continuing to enjoy his days at summer camp. The only downside to summer camp is that they don't nap and that makes for a VERY tired (and usally cranky) little boy come 7pm! He is honestly one of the sweetest, most kind hearted children I have EVER met and I love him more than words can say! :)
Trying to run away from the camera the last day of vacation! :))
~Yesterday was my hubbys work party at Ironbirds Stadium (it's our local minor league baseball team, owned by Cal Ripken Jr.) It was a good time, but SOOOOOOOOOOO hot! It was fun to meet Manny's coworkers and put faces with names. Mia got stung by something (assumedly a bee) so that combined with the heat made us cut our stay a tad short (which was totally fine by me! I don't "do" heat, UGH!!!! :))
~I will be posting our final Ocean City recap tomorrow! These pics are probably my favorite! :)
~My mom, sister, her hubby and their kiddos leave for Mexico tomorrow for vacay. I'm super jealous! :) I know they'll have a blast! I can't wait to see their pics!

~One of fav Christian groups is coming to concert in November-Third Day! I've been dropping a ton few subtle hints to hubby about it being a GREAT idea for an early Christmas present. Let's see if he gets my hints! :)
~I can't believe it's already August! I mean seriously where does the time go!?!?!??!?!?!
I hope you all have a great day! :)