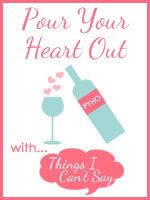 It's so easy to get caught up in the "rainbows and sunshine" world of blogging (aka every blog post I write is going to be about how amazing my children are, how fantastic my husband is, and pictures of us enjoying life and being happy ALL.THE.TIME!) Well, I don't know about you, but that's not my reality (even though I'm guilty of keeping my blog pretty "happy" most of the time! :) and not showing the bad, right along with the good. I like when other bloggers "get real" and talk about their reality that might not be positive, might be embarrassing, might get judgemental comments but is real nonetheless.
This post is probably going to be all over the place, but I'm just writing my feelings with the hope that writing it out will hold me accountable to work on changing myself, and maybe, just maybe, someone else will be able to relate.
I fail at motherhood and being a wife, often. Everyday in my world is not happy, smiley, God praising, wonderful, well, you get the point! Do you ever have those days where you think, "Wow, I'm really not cut out to be a parent!?!??!?!!" If I'm being honest, I do! And it probably happens more often then I'd like to think/admit. Don't get me wrong, I LOVE my children! They are my world! They smile, I smile. They hurt, I hurt. But really, sometimes I fail them...I have NO patience (and I'm not being dramatic here. I flip out over the smallest things). THEY ARE CHILDREN! They are going to whine. They are going to throw tantrums. They are kids. But why does it drive me SO insane!??!!? Why do I lose my cool so easily with them? (now please understand, when I say "lose my cool" I do NOT mean hit them, degrade them, etc. when I say "lose my cool" I mean get frustrated/angry/stressed about the smallest things!!!) Patience is a virtue and clearly not one I possess. But honestly, to be a mother, you need patience and lots of it. Where did mine go? UGH!!!!
And what's the point of all of this ramble...I read so many stories (on a daily basis) of parents who've lost their children, or children who are terminally ill fighting for their lives, or people who can't have children, or people who have had failed adoptions, and the list goes on and on, and here I am, with two beautiful, healthy, amazing, wonderful children who any of these parents would give their left arm for, and I take it for granted. Manuel or Mia could be taken from me in an instant (we do not know when we will be called Home) and here I am wasting my precious time with them, being frustrated about putting our sofa pillows on the floor, or whining for dinner the second we walk in the door or throwing their water bottle on the floor and getting water everywhere! ITS WHAT KIDS DO!!!!! I just wish I could stop! I wish I could be a mom who lets their children play in the dirt, play with flour and get it all over the kitchen for fun, finds the "silver lining" in their children coloring on the wall (although that IS something my children have never done! ;)) You're out there! You "perfect" moms are out there. I read your blogs! Now why can't I be like you!??!?!?! Monday-Friday I work outside of the home, so the time I spend with my children is very minimal (sadly) so why am I not making the best of it!??!?!?! I know that none of you can answer these questions, but again, hopefully writing it out will hold me accountable and make me realize that I need to work on myself!
And sadly, it's not just my children...How come I don't realize how blessed I am to have the husband I do!? Yes, he's put me through a lot, but that was 2+ years ago, and I've forgiven him, so there is no reason for me to treat him poorly! He loves me more than words could ever show! He is an amazing father! But yet, I lose my patience with him because he doesn't buy me the right razors at the grocery store (yes, he does all the grocery shopping!) Or he accidentally buys 2% milk instead of 1%. What is wrong with me!??!?!?! How come when our blessings are right in front of our faces we don't even realize it!?!?!
I've had this post on my heart for days now, so there is a reason I needed to write it. I've definitely just poured my heart out. Please don't judge, I'm only human! :) I promise I'm not always angry, but sometimes I just need a reality check about how good I do have it!