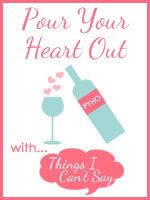 I had mentioned recently how I wanted to open up more on my blog, show the "real" me and be more raw about what I've been through in my life in hopes of being a source of encouragement for others. Unfortunately I let my oversensitivity get the best of
me
, opened up a little
once
(well, that's more then a little, I suppose ;) but I left everyone hanging) and haven't gone back to my "open and honest" format until today (and please don't misunderstand, I am ALWAYS honest and truthful about everything I post on here, but I haven't been "open" lately. But that's all about to change as I link up to a Pour Your Heart Out post over at
Things I Can't Say
. This might be lengthy, but feel free to sit back, relax, and read :)
I ended
this
post with my husband leaving for rehab in April of 2009 (clearly one of the hardest days of my life). How could I be SO dumb? How did I not know? And to be honest, I don't think I'll ever know the answer to those questions, but I don't dwell on it anymore. I didn't know what he was a drug addict (prescription and street), and that's all I can say! Manny was in rehab for two weeks (clearly not long enough, but we couldn't afford for him to be off work any longer). Manuel thought he was away for work and when we went to visit him (Easter Sunday) he thought the place we were visiting was where he was staying for work. Keep in mind, he was only 3 at the time, so he didn't know better (my goodness, if this happened now, he would NEVER buy it! He's SO smart) But we were separated for two weeks, Manny came home and all seemed well. He was offered his job back and of course took it. Life seemed to be going smoothly until Manny relapsed. May 11, 2009. My world was shattered! How could this be happening!??!??!?! What was I going to do???? My mom was going to be heart broken. She would be beside herself if I forgave him again and decided to stay AGAIN. WHAT WAS I GOING TO DO!?!??! Here we go again...
May 12, 2009 Manny entered rehab again. This time at a hospital (to also deal with his emotional/anxiety/mental issues brought upon him by a pretty horrific childhood!) He was gone again, but this time, I was oddly okay with it. Would he get better? I had no clue, but I knew that for two weeks I did everything on my own (the first time he went away) and I COULD DO IT! This was huge for me (I am VERY much a dependent person. I always have been. My mom made my doctors appointments for me until I was 20 (well not really, but you get my point! :)) So he left, and I cried, but I was okay. I told him that HE would be the one telling everyone where he was this time. It was not up to me to pick up the pieces and tell his grandmother (who was BEYOND devastated), my mom (who was also BEYOND devastated), etc. He needed to take full responsibility for his actions and that was that. If he got better this time...good. If he didn't...good. I was okay on my own, and I would do EVERYTHING in my power to raise Manuel to be an amazing person whether Manny was part of it or not.
May 15, 2009...Manny was gone at rehab. My best friend since I was 8 was visiting (she thought Manny was on a fishing trip...only my family knew). We were hanging out, our boys were playing. My cell phone rings and it's my Aunt Kathy (my dad's sister) and I knew it couldn't be good...my dad was gone. At the age of 59 he had died of a stroke (years of drugs and alcohol of abuse will do that to you). My dad was dead, my husband was in rehab, and my best friend was standing in front of me while I lost it! "Call Manny! He has to come home from his fishing trip! You just lost your dad." Veronica said over and over again. I couldn't muster any words. Do I keep lying? Do I tell her the truth? What to do? Finally I said it, "I can't! Manny isn't on a fishing trip, he's in rehab." Of course she stood there in shock! I don't remember exactly what happened next. I know my mom, aunt and uncle came over to comfort me (and of course Veronica stayed). Manny happened to call and I had to break the news to him. Of course he was guilt ridden that he couldn't be there for me. But he was where he needed to be. Life would have to go on. My dad was gone, but honestly, I felt peace about it. Manuel was going to miss PopPop (even though he was only 3, he and my dad were very close) but I had to be strong. I had to keep it together. And I did....
May 23, 2009...the day after my dad's memorial service I wasn't feeling well, so I took a pregnancy test. You guessed it, it was positive. My husband was a (recovering) drug addict, my dad had just died, and I'm pregnant and bringing a child into this mess (before I found out about Manny and his drug addiction, in my blissful ignorance, we had been trying to have another baby).
I had to try and make this work. IF Manny could stay sober, I owed it to my children, to God, to my husband, to myself to try and make our family work. (I understand that might be SO hard for you some of you to understand. Trust me, looking back, I don't know how I did it, but I am SO glad that I did. God knew what he was doing! :))
Almost two years have passed since Manny got sober. Too many memories and details to put in this post or it would take you DAYS to read it (if you are even still reading! :)) All I can say is that God entered our lives fully and completely, and that probably helps you fill in that two year span! :)) But I am beyond happy to say, that we are still HAPPILY married, Manuel and Mia are healthy and happy, Manny is 100% sober, and life is good. We will be celebrating our 5 year wedding anniversay on March 30, 2011 and I can honestly say I love him more today than I EVER have! But what makes me most happy about this entire situation, and the "silver lining" (if you will) is that I know that the cycle of addiction has ended (or at least that is the prayer from the depths of my soul). You see, my dad was an alcoholic and drug addict, so was my grandfather. Manny's dad was an alcoholic and drug addict, so was his grandfather (well not so much drugs, but drinking). Manny dealt with addiction. I went through a REALLY bad phase of drinking a lot and doing a lot of drugs (not to the point of addiction but I was doing them A LOT). I DO NOT WANT THAT FOR MY CHILDREN, EVER! And I honestly think, that the cycle of addiction is OVER! My children will grow up in a household where they go to church, love God, Mommy and Daddy are sober and healthy, etc. And I know anything can happen, BUT, I pray that the cycle of addiction is over!
Thank you God!
Thank you for reading (if you still are! :))