I've sort of reached a crossroads in my blogging. I LOVE blogging! It's a great way for me to document the lives of my children and family and hopefully one day my children will read it. BUT I'm starting to become too concerned with the "little things" (ie. if I post and don't get any comments, etc.). I've always been one of those people who care ENTIRELY too much about what others think of me. I am extremely self conscious and am always trying to make sure people like me (yes, even as an almost 30 year old wife and mother). It's just the way God made me! :) I've always been a big believer in treat others the way you want to be treated, so when I take the time out to say something kind, meaningful and from the heart to someone (in person or on someones blog) and they don't reciprocate, my feelings get hurt. Yes, I know, again I am an adult and it shouldn't matter, but I'm just being honest and it does! :) With that said, I'm taking a step back and TRYING not to concern myself with things that, in the grand scheme of life, do not matter. I will continue to post about my life, my children, my husband, a sporadic photo challenge, an occasional giveaway, etc. but the days of being overly concerned with "blogging numbers" (followers, comments, etc.) are over! :) Here's to turning over a new leaf :)
Now that is over :) ...I've decided to participate in a super fun blog hop over at
Dancing Barefoot on Weathered Ground
. Link up and join too! :)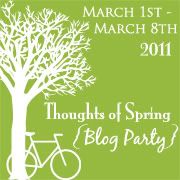 A little about me: (well, you already know I care WAY too much about what people think of me! ;)) but other than that...My name is Christina. I am Sicilian (my mom was born in Sicily). I live with my husband, Manny and our two children Manuel (5) and Mia (1). My husband and I both work outside of the home. Manuel is in preschool and Mia is cared for by an AMAZING woman who is like family to us. Our time, when not working, is spent together just having fun and enjoying life! :) We attend church regularly and absolutely ADORE our church family. I teach Sunday school every week to two and three year olds. We are here, and still alive, because we were saved by God's grace. Trust me, if you take the time to read any of my blogs posts to see where my husband and I came from and where we are now, you would understand...only God can bring someone from the absolute grips of Satan to where we are today! :)
Now, on to some fun questions that Lynette posted....
How would people describe your personality? (If they could only use ONE word.) Are they right?
Kind. Not to toot my own horn ;) but yes! :)
What celebrity/celebrities would create a "Star-Struck" feeling if you saw them in real life?
I'm not really "into" celebrities. Don't get me wrong, I watch TV, movies, etc. but I've never been one to really care about celebrities and their lives. I think if I saw anyone famous (even if it was just a reality TV star! :) I'd be star struck and probably freeze up. I think that has happened when I've seen local news personalities out and about! :)
Who is your favorite blogger? Why?
Oh my, I'm not sure I could pick just ONE blogger. I have several mommy bloggers that I adore. I do read/follow a lot of the "big" bloggers, but I tend to relate more and connect with the moms/people who just write from the heart about their children, their lives, their adoptions (I love following adoption blogs. I find them SO amazing), etc.
What is your comfort food/drink?
I LOVE pizza and chocolate milk (not together! :))
Be brave – tell us something very random and weird about yourself.
Every time I drive over a bridge I look in my rear view mirror and picture it crumbling behind me and wondering if I could speed off the bridge fast enough, before the part I'm drive on collapses too. Yes, I realize this is a tad odd! :)
Do you have a strong desire to do something you've never done? What is it?
Yes, to take a missions trip to a foreign county
Movies: Action, Drama, Romantic Comedy, Documentary, Comedy? What are your favorite genres?
Actually, I hate movies. I watch them because my husband LOVES them, but I'm not a fan. I think it's because I hate being required to sit still for two hours (or so). I'm always thinking of a million and one other things I could/should be doing! :) But if I HAD to choose it would be romantic comedy.
Books: Fiction, Non-Fiction, Romance, Biographies, True Stories, Self-Help, Devotional/Study? What are your favorite types of reading material?
I seldom ever read (sad but true), other then childrens books.
Music: Funk, Rock, Country, Jazz, Classical, Film Score, Blues, Classic Rock, Crooner, Alternative, Heavy Metal, Techno? What are your favorite types?
I used to listen to a wide range of anything and everything...rap, country, classic rock, alternative, etc. Now I primarily listen to contemporary Christian, and country.
If you inherited a million dollars, what is the first thing you would do with your money?
Put money aside for Manuel and Mia to go to college, THEN buy a house!
Name one weakness of yours (confession is good for the soul).
Food. If it's unhealthy food, I probably love it! :)
If you could live anywhere at all (and take all your loved ones with you), where would you go?
I can't imagine living anywhere other than the East Coast, but somewhere in the Midwest or South might be fun.
Strange Talent? Can you juggle basketballs, put your legs behind your head or perform some other strange feat?
Hmm, nothing that I can think of.
What's something you consider yourself to be good at? (Don't worry, it's not bragging, it's acknowledging a God given gift).
Helping others. I know it's not a talent or gift, per se, but in my eyes it is! :)
What is one of your favorite things to catch a whiff of?
the smell of cookies baking, YUM! :)
When you leave a social gathering, do you wish: You would have talked more or You would have talked less?
I'd go with talk more. I'm usually very shy and quiet in a large group (unless I know you really well).
If money wasn't a factor, what stores would you shop in?
Not sure. I typically only shop in reasonably priced stores (Target, etc.)
What is your greatest fear or strange phobia?
It's not strange, but my greatest fear is definitely something happening to one of my children. I read a lot of Caringbridge/Carepages about sick children and my heart literally aches. I can't even fathom it (and hope I never have to).
What is your greatest accomplishment?
being a mommy! Cliche, I know, but from what I was in my early 20's to the mommy I am now, it's truly amazing!
What are your favorite animals?
I'm not a big animal person (I know, don't hate me). I mean I like them, but I just would prefer to be a pet-less household :) (my husband, on the other hand, will make sure when we stop renting we have a dog, whether I like it or not! :))
Are you a hopeless romantic?
No, I'm a realistic romantic :)
That was fun! Go visit Lynette and link-up! :)
Have a great weekend everyone!