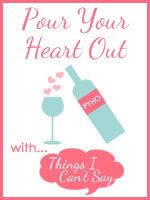 *Ironically enough I wrote this post last Wednesday (the day before Mia got really sick) and just never posted it because I Felt like it was mish mash and all over the place, but without further ado, I'm posting it anyway! :))
It's been a while since I've poured my heart out, so here it goes...
I am blessed! I need to remember that...think it...feel it...believe it...not just on one random morning as I drive into work (like this morning), but EVERYDAY!
I have so much more than so many other people in this world! I'm not just talking about materialistic things, but spiritual/emotional "stuff", an amazing family, an awesome church, etc.
It's so easy to get caught up in the "poor me" of day-to-day life...
I was driving to work today and look over at a stop light and next to me is a school bus full of children. Most of the children were wheel chair bound, not even able to hold their head up on their own. I glance in my rear view and see my sweet, chubby faced baby girl staring back at me. Able to hold her own head up, able to run, able to dance, able to CLIMB ON EVERYTHING, able to sing, able to scream her head off in a tantrum...I had just left my sweet, amazing little boy, as he walked to the car (Manny's car) to get in to head to school, not in a wheelchair, running, skipping, playing, yelling, screaming, talking back. Able to do all things that little 5 year old boys do (even the stuff we don't like! :)) I think I take my life for granted too often, and all the blessings in it. I'm quick to think about what I don't have instead of cherishing all the amazing things I do have. I've been through trials in my life (and more are bound to come in my lifetime), but there are people who have it so much worst. I don't think any one person is more deserving or less deserving of trials, based on the lives they live. Trials come and go. They always have. They always will. You always make it through them, because if you didn't, you wouldn't be sitting there reading this :) God never promised this life would be easy, but that He would be there every step of the way. We just have to remember to turn to Him!
~I don't have the biggest house (heck, we don't even own our own home, we rent)...
But, we have a roof over our heads
~Most of my brand names clothes are consignment shop buys..
But, I have clothes on my back and money to buy clothes
~Some of the food we eat is store brand...
But we never go to bed hungry
~We are literally busting at the seams in our house (you might notice the over abundance of stuff in the background of my pictures! ;))...
But we are blessed that we have "stuff"
~I got married in a courthouse and missed out on the big lavish wedding...
But I have love, friendship, and a marriage that has truly been tested and SURVIVED!
~I miss family members who I'll never see again this side of Heaven...
But because Jesus is my Lord and Savior, I will see them again (hopefully not anytime soon! ;))
~I wish I could spend more time with my children..
But I have a job that helps support our family, and for now that has to be good enough, and I hope one day they will understand.
*As I'm typing this list, some of the things, being written out sound even pettier as I read them (then they do when I even think them!) I mean seriously...we buy non-brand name food...WHO CARES!?!??!? We have food in our cabinets (which is more then some families can say right at this moment!) That's what I'm talking about people! :) ....realizing how much I DO have instead of how much I DON'T have*
Added since I drafted this up:
~My sweet little girl was sick and had to be poked, prodded and hospitalized for a few hours...
But it was "just a virus" and there are SO many parents out there (many parents whose stories I follow) who would give their left arm for them to have been told "its just a virus" instead of cancer :(
My list could go on and on, but I'll stop now as this post is pretty much all over the place and random. It was just on my heart, so I had to share! :))