A few weeks ago, I linked up with
Shell
(who's blog I love!) for
Rockin' the bump
and this week I am linking up for Rockin' the baby. Go visit and link up too! :)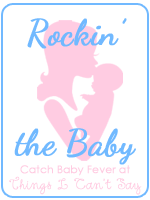 As I've explained before, it's not that I love Manuel ANY less than Mia, but I was prego with Manuel and his first year or so of life was lived pre-digital era (at least for me! ;)) I have hundreds of hard copy pictures of Manuel, but very few downloaded on any sort of photo program. I could scan some, but our scanner is broken
(and honestly, I'm not sure why I just don't throw it away, instead of explaining it to you all every time I post about scanning pics! :))
But I went on my sisters Myspace page last night (GASP! Myspace, I know! It took me forever to remember my log in and password! :)) but I knew she'd have some older pics of Manuel, and sure enough she did. These aren't newborn pics, but they are about as old as it's gonna get! :)
Although you can't see his face, this is probably one of my favorite pics of Manuel. My sister was babysitting him one day, and snapped this pic of him. I love it! :)
My sister and Manuel at her wedding. Yes, he's in his jammies. He did have a suit on, but let's be honest, he was about 3 1/2 months old, so that suit didn't last long! :)
You can go
here
to read about Manuel's "birth"day :) Manuel will be 5 1/2 soon! I can't believe it!
Mia, a few moments after being born! She was not a happy camper apparently! ;)
My sweet baby girl! She was about 24 hours old in this pic.
To read about Mia's "birth"day, go
here
. Mia will be 18 months old next Monday. 18 months!?!?!??!?!
And if you are new to my blog and are curious as to how M&M got their names, go
here
!
Thanks for coming by and letting me share my babies, the loves of my life! :)