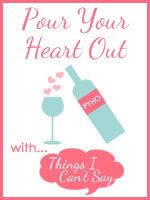 As always, I am taking this week to use Pour Your Heart Out, as an outlet for my feelings and thoughts about the anniversary of my dad's passing. I know Pour Your Heart Out doesn't always have to be deep and sad, but it just so happens that it feels "right" to use this day each week to get extra meaningful, if I have something that just doesn't seem right to post about in the day-to-day posts about life :) I'm going to do these posts about my dad in a series because the story is entirely too long for one blog. I hope you'll come back next week for the 2nd part (and any subsequent parts I may post)...
Sunday, May 15th, 2011 was the two year anniversary of my dad's passing. He was a few months shy of his 60th birthday. We had plans to have him over our house for some delicious Maryland steamed crabs to celebrate. He was excited. We were excited. Little did we know that he wouldn't make it to his 60th birthday. But, as sad as that is, it was nothing short of a miracle that he made it 59 years...
Let's start with some background information...My dad, Lou was born August 29, 1949. At the age of 2 (or around there) his dad died. (He was on a ship in the Koren War. He died (assumedly) trying to save others when the boat was attacked (he received a Purple Heart for his heroic act, which my sister has. His body has never been found). His Mom, Betty remarried a man named Herschel who was a VERY abusive alcoholic (before he found the Lord MANY years later). At the age of 21 my dad's mom died of a cerebral hemorrhage. My dad had a rough upbringing and no real male role models in his life (NOT using that as an excuse, just putting that out there). Still following? I hope! :)
Fast forward a few years...My mom was a hairdresser and my dad's sister, Betty, worked at the salon with my mom. She set them up...My dad was a super athlete in high school and actually had a full ride to play football for Ohio State. He was young and dumb, too worried about girls and having fun, and let that ride slip him by (I would assume that would be one of his biggest life regrets). He and my mom met, got married in April and on October 8, 1979 my sister Amy was born (yes, SIX months after they got married ;)) And then 19 months after that, I was born, on June 2, 1981. I had a fantastic childhood. Every memory of my younger days, that involved my dad, were happy, wonderful ones. He was very involved with my sister and I, and loved us to absolute pieces. He, without a doubt, had the most amazing heart of anyone I've ever met (and as you read this story, you may think I'm crazy for saying that, but it's the honest to God's truth), BUT the alcohol and drugs were Satan's hold on him that, one day, took a grip and NEVER (sadly) let go!
We grew up in Maryland, but around the time I was 7, we moved to South Carolina. To this day, I still don't know why, but we did. One day, my dad picked my sister and I up from Sunday school, it was POURING down rain, my sister and I were sharing some candy that our Sunday school teacher gave us, the car hydroplaned and hit a tree. I broke my wrist, my sister broke her leg, and my dad broke his collar bone. (I would find out YEARS later, that my dad was drunk when the accident happened.) To be honest, I don't know if he spent time in jail, I really have no clue, and I've never asked my mom (not sure why). Things just seemed to spiral out of control from there...one day my dad never came home from work. We have no idea where he went or what he did, but he was gone for a week. When he returned, it was like everything was normal. Now please understand my mom was (is) AMAZING! She only wanted what was best for her daughters and at the time she thought it was for my dad to stay. We moved back to Maryland about a year after we left, my dad started Alcoholics Anon and life seemed well. My mom and dad bought a house (our first home that they owned) and we were really happy (or so it seemed. This was over the span of about 6 years).
Then it started again, my dad would leave to get pizza and not come back for hours (yes, it sounds like a movie, but it was my real life). My heart would break for my mom and my sister (and maybe myself, at times but for whatever my heart for them the most). How could he be doing this to us again? One night, he came home really out of it (I'd venture to say at this point it was not only alcohol but also prescription drugs from a back surgery he had). My mom told him that he either he wake up tomorrow morning and commit to getting help or he better not be here when we woke up. We woke up and he was gone. He had chosen the drugs and alcohol over us. I was 14, my sister was 16 (approximately). Over the course of several years we would get a random phone call from my dad while he was in jail for his 5th, 6th, 7th DWI, with lots of empty promises that he had changed. Sometimes, I'd even be stupid enough to believe him. No matter how many empty promises my dad told us, or what he did, my mom (bless her heart!) would never speak an ill word about him to us. She knew as we grew we would learn the truth, and no amount of badtalking about him, would make us know. We had to find out ourselves. My sister grew to DESPISE (understandably so), but me, on the other hand, always held a place in my heart for him. How could I not, no matter what, he was my dad. He missed our high school graduations, my sisters college graduation, our weddings, and so much more, but my heart couldn't hate him. I could never hate him!
And then, just a few years ago, he came back into our lives. I don't even recall how it happened, but it did...
More of the story to come soon...
And for good measure...
My dad and Manuel, Easter 2008 (I believe)
My grandparents Betty and Lou (my dad's parents)