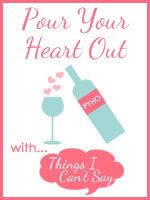 Read the first part of the story
here
.
As I thought about this second post, trying to recall details, I realized my relationship with my dad can basically be summed up by beginning, middle and end, in the simplest terms. There was the very beginning with great memories (fishing (my dad ALWAYS took me fishing and I loved it!), trips to the beach, him playing Barbies with us :), etc.) then the middle which is full of saddness, addiction, etc. and then the end which is a combination of it all.
This week I am going to Pour My Heart Out about the time after my dad re-entered my life...
As I had mentioned in my last post, I really don't recall at what point my relationship with my dad went from phone calls from jail and empty promises to "knowing" him again, but I'd venture to say it was around 2003-2004. He came around again...he was remarried to a woman named, Barb, lived in the same area, and seemed "well" (that really is a relative term because regardless of what he told me, I knew the drugs and alcohol were still apart of his life, but perhaps just not to the extent that I remember). I was living a pretty crazy lifestyle, and just being young and dumb, but I made time for my dad. I'd stop by his house and visit before I headed out on the town with friends. I'd call to say hi and check in on him (I soon took on the "mothering" role and always felt like I had to talk to him several times a week to make sure he sounded sober and "normal"-sometimes he did and sometimes he did not. The times he sounded bad would really throw me for a loop. Not that I didn't know what he was doing, but why even answer the phone when I call if you aren't coherent and there (mentally)???? But regardless of how bad he sounded, when he answered, I knew he was alive. That gave me peace). I remember a time when I was unemployed and my dad was working for a guy named Chuck. Chuck needed someone to clean his house, so my dad knew I needed money and asked me if I'd be interest. Of course I said yes, and each day Chuck and my dad would pick me up (I didn't get my license until late in life and of course after SO many DWI's, but Dad didn't have his license either). Each morning when they showed up my dad would have a breakfast sandwich from Wawa waiting for me (it was those sort of little things that always proved that deep down my dad was there, and that loving, nurturing, amazing heart was there, but the drugs and alcohol overshadowed it all). It's SO hard to explain and I guess unless you live through it, you just might not understand what I mean....But if you ever met my dad, you'd know! (even my mom's family (who saw the worst of the worst) loved my dad because he was just that sort of guy. His heart was GOLDEN! Even if you ask my 81 year old grandmother (my mom's mom) today about my dad, she'd say, in her sweet Sicilian accent, "I love Lou. Lou was a great man with lots of problems. He loved his girls..."
In 2005 I became pregnant. I took Manny (my husband) over to meet my dad and Barb. They were very excited to meet him! The visit went well. My dad was sober that day and it was a great visit. I still have pictures from that day that I hold very dear to my heart. Manny knew the story about my dad, and actually embraced him with open arms, sober or not. He was not fond of the emotional stress I would be under, constantly worrying about my dad and his well being (understandably so) but he treated my dad with love and care. He would take my dad fishing, to the grocery store, out for lunch, etc.
Then in late 2005 my dad became VERY ill. I was certain he was going to die. He had MRSA, and combined with the diabetes, drugs, alcohol, etc. it threw his body into a tail spin. He was in ICU more times than I can recall. I saw him several times on a vent, clinging to life. But every time he bounced back. Every time I would get that phone call from my aunts letting me know what happened, I'd mentally prepare myself (or so I thought) for the worst, and then he'd come back and I'd breathe a sigh of relief. I think no matter how much I prepared myself for his passing, I would always hold hope that he'd get better, and he did. You can never prepare yourself enough though to see someone you love (no matter what, you love this person with your entire heart, this person helped give you life), laying on a hospital bed, being kept alive only by machines. It's not something I'd wish on my worst enemy. After each hospitalization, once he was stable, my dad would get sent to rehabilitation centers (not drugs ones, the kind for physical therapy, etc.) to finish his recovery. Part of Christmas Day 2005 was spent visiting my dad at the rehab center. I was very pregnant with Manuel at the time. Who wants to spend their holidays at that sort of place? Certainly not me, but it was my dad, and I was not going to let the holidays pass without him knowing I loved him (and of course Manny was by my side each time).
Easter 2006 was the first time my dad ever met Manuel. He was at a local rehab facility again (another one), finishing off rounds of IV meds to kick his latest infection. He fell in love with Manuel. His first grandson, the little boy that would grow to be the apple of his eye. You might be thinking, you took your son around him?? Yes, I did. I wouldn't trade that decision for all the money on the planet. Manuel gave my dad a reason to live. At some point over the course of 2006 (I believe), Barb left my dad (their relationship was toxic to say the least!) It was during his stay in ANOTHER rehab facility. He was better off without her. We (his sisters (he has one full sister and 3 half sisters) tried to convince my dad that it might be best for him to live in one of these assisted facilities where clearly he could be given his meds, be kept infection free, etc. (and deep in our hearts, we knew if he was there, he wouldn't be drinking and drugging). But unfortuanately, he had the mindset that he was a 58 year old man, with life left in him and he wasn't going to live in "nursing home". Although I knew that wasn't what would be best, he had made up his mind.
With state assistance he was able to move into a low income housing apartment a few towns over, it would be a new beginning for him, but sadly, put him one step closer to the end...
My dad and I (some of the good times :))