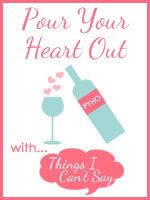 Good Morning Friends! :)
Everyone knows I love a good "Pour Your Heart Out" post and since I was already planning on writing about this today, as soon as it happened this morning, AND it makes for a great Pour Your Heart Out post (or at least I think so :)) I'm going to share it and link up with
Shell
.
This "season" of life (April/May) will probably always remind me of Manny's road to
sobriety
, (Let's be honest, how can it not? That was probably one of the most life changing experiences I've ever been through)however I typically try not to think about the first time he left since clearly that wasn't successful. We celebrate his TRUE anniversary of sobriety (May 12th) but the time from April until May 12th, 2009 brings back not so many good memories for me. Life was in complete turmoil and chaos (although I held it together for Manuel). So you can understand why I wouldn't want to remember those times in detail.
But as I'm driving to work this morning, I hear Mia in the back seat talking away so I tilt my rear view mirror down to see her, and I see the most precious, sweetest, adorable, chubby little face looking back at me, and I smile and then it hits me like a ton of bricks...today is April 20th, it was two years ago today that Manny went to rehab for the first time. It was two years ago today that my life and my world as I knew it turned upside down. It was two years ago today that people told me to leave, I could do better, I could make a better life for myself and Manuel, I needed more. But you see, if two years ago today I had decided to turn around and walk away, this sweet little face that was staring back at me in the rear view mirror this morning wouldn't be here. As this thought dawned on me, my eyes welled up with tears. I will never understand why I stayed from the beginning but God knows why. Because if God hadn't stepped in, and made me follow my heart and stick by my husband there is one very special, amazing little girl that wouldn't be here today. Wow!

Thank you God! :)